Cafe Blossom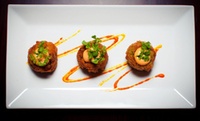 Vegan Cuisine at Cafe Blossom (Half Off). Two Options Available.
Cafe Blossom is a West Village restaurant that specializes in Vegan cuisine.  Cafe Blossom is located at 41-43 Carmine Street.
With this Groupon deal you have the option of purchasing a voucher that gets you $30 worth of food for $15 or $60 worth of food for $30.
This deal expires 30 days after purchase.  That's a little shorter than some Groupon deals, so only purchase this one if you can use it within 30 days.
See the deal details and make your purchase.