Great New York Tours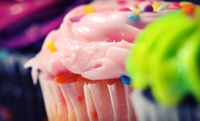 Cupcake Walking Tour of New York for One, Two, or Four from Great New York Tours (Up to 68% Off)
Yum! Cupcakes!  Cupcakes are a very popular treat in NYC and you'll get to sample some of the best (at a discount rate, even) with this discount deal on a Cupcake Walking Tour of Union Square.
The tour is operated by Great New York Tours – they get great reviews at TripAdvisor.  See reviews.
Guides will lead you on a walking tour to six bakeries and you'll sample treats along the way. See their website for details.
With this Groupon Deal, you can get one tour ticket for $20, two for $35 or $four for $65.  Regular price is $50 for one ticket.
Deal details