One way to find good deals on Broadway and Off-Broadway shows is to check out our latest deals here at NYCCheapTravel.com.   But doing a little homework on your own can help too, especially if there's a particular show you want to see.
TIPS FOR FINDING TICKET DISCOUNTS
1. Get promotional deals directly from the show.  Find the official website for the show you want to see and sign up for email updates. Just about all shows have a mailing list. Sign up forms are often near the bottom of their webpage. While you're visiting their website, go ahead and follow them on Twitter and Facebook if you use those services. These are all good ways to make sure you'll receive any offers issued by the show. Twitter and Facebook are particularly good for last-minute offers. During stretch of NYC snowy weather, several shows made same-day announcements via Twitter about discounted ticket promotions to get people out to the theater.  Social media is the best way to find out about those kind of spur of the moment offers.
2. Sign up for the Playbill Club.  Go to Playbill.com and sign up for their free Playbill Club. You'll get special offers for discounted show tickets delivered to your email box. With their deals, you have the option of purchasing your tickets online, by phone, or in-person at the theater box office.  If you can get to the box office, you'll save a little extra money by not having to pay the phone and internet ticket service charges.  Visit Playbill.com to sign up.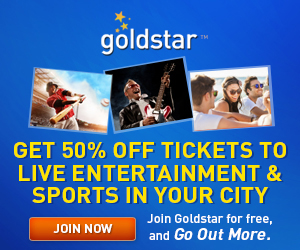 3. Register at Goldstar.  Goldstar is a business that specializes in selling discount entertainment tickets. In addition to theater tickets, they also have discounted tickets for concerts, comedy clubs, sporting events, and sightseeing tours. They add service charge fees, but even with those their ticket prices are very competitive and often lower than what the other sites are offering. It's worth checking what they have available and comparing. They have discounts for most metropolitan areas of the U.S., so occasional NYC visitors might also find deals for entertainment closer to home. Registering at their site is easy, just enter your email address and a zipcode.  Go to the Goldstar site to register
.
4. Sign up for NYC Cheap Travel's email updates.  Sign up for either or daily or weekly newsletter and never miss the announcement of a good deal.  Sign up now.
5. Learn about all the discount ticket options. There are more ways to save on tickets, including rush tickets, student discounts, the TKTS booth, and Audience Rewards. Learn more about finding discount theater tickets.