Grimaldi's Pizzeria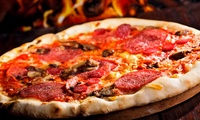 "Zagat"-Rated Coal-Fired Brick-Oven Pizza at Grimaldi's Pizzeria (Up to 50% Off). Three Options Available.
If you're going to have pizza in NYC, you might as well get it at one of the city's best pizzarias.  Grimaldi's most famous location is their original spot in Brooklyn.  This Groupon offer is for their Manhattan restaurant (6th Avenue, between 19th and 20th Streets) which is more convenient for most visitors to the city.
The Groupon deal has several options. You can pay $12 for $20 worth of food valid Monday – Thursday, $30 for three Groupons, each good for $20 in food for two or more Mondays – Thursday, or $15 for $20 worth of food any day of the week.
See the Grimaldi's Groupon deal details and make your purchase.
********
Subscribe to the NYC Cheap Travel Newsletter and stay up-to-date on the latest NYC deals and money-saving travel information.