SLIDE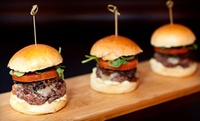 Burgers and Fries for Two or Four at Slide (Half Off)
Check out Greenwich Village and enjoy a fun meal at Slide – where the specialty is little mini "slider" burgers.  With this Groupon deal you get two slider plates (with three sliders per plate) and one side for $20.  You can also double the order for $40. Read reviews of Slide at TripAdvisor.com.
Slide is located at 174 Bleecker Street.
This is a Groupon deal, but if you're not a Groupon member, don't worry – it's free and easy to join and they'll walk you through it at checkout.
See the Slide dining deal and make your purchase.