Sigmund's Pretzels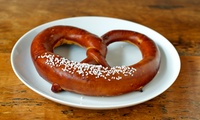 Artisanal Pretzels With Dips and Craft Beer for Two or Four at Sigmund's Pretzels (Up to 59% Off)
Hand-crafted soft pretzels and craft beer – that sounds like the making for a nice little break from your NYC sightseeing. Sigmund's Pretzels is known for their excellent quality.  And for a limited time you can take advantage of this deal from Groupon that offers two artisanal pretzels with dips and two craft beers for $10.  If you're going with a few friends, there's also an option for four pretzels and dips and four craft beers for $18.
[su_button url="http://www.anrdoezrs.net/click-7129256 -10872943?url=http%3A//www.groupon.com/deals/sigmund-s-pretzels%3Fp%3D1%26utm_source%3Dnewsletter%26utm_medium%3Demail%26sid%3D536fc935-a622-40f5-a852-8ac4ba7eaa20%26division%3Dnew-york%26user%3D153ad2becb1f2abee7c8c7f44f172aa2532a01c2ed8f3bb83502b05cd7f79bde%26date%3D20140813%26s%3Dbody%26c%3Dimage%26d%3Ddeal-page%26utm_campaign%3D536fc935-a622-40f5-a852-8ac4ba7eaa20″ background="#8c9ab5″ radius="0″ icon="icon: star"]Deal Details[/su_button]
See the Sigmund's Pretzels' menu.
Sigmund's is located in the East Village at 29 Avenue B at 3rd Street.

********
Subscribe to the NYC Cheap Travel Newsletter and stay up-to-date on the latest NYC deals and money-saving travel information.