New York Mets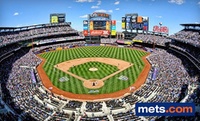 New York Mets Game at Citi Field on August 2, 6, 8, or 20 (Up to 54% Off). Various Seating Options Available.
Take yourself out to the ballgame! And enjoy savings on your tickets with this deal from Groupon.
The discount tickets are for Mets home games at Citifield.
Discount ticket prices range from $11 to $46 depending on the game and seating section.
See the Mets tickets deal details and make your purchase.